A Modern Take On the Durable Truck You Love: 2018 Ford F-150
Many of our drivers are in the market for a new vehicle that offers them versatility and power on the road. For these drivers, the Ford F-150 has been a stable driving force that they can rely on in a variety of capacities.
With the 2018 Ford F-150, you still get these incredible capabilities; however, you also get a variety of advanced, modern technology that helps ensure your safety, your comfort, and your performance on the road.
In other words, the 2018 Ford F-150 is as strong, as durable, and as advanced as ever before.

Tough, Chiseled Exterior Design Meets Reliable Performance Capabilities
The moment you see the 2018 Ford F-150, you will fall in love with it. Not only does it have the strong, powerful exterior design you would expect it to have -- exuding an aesthetic of confidence, and reliability -- it also maintains its aerodynamic design. This means that your fuel efficiency will be augmented when you are on the road, as your Ford F-150 will slide through the wind with ease.
Furthermore, the interior of the 2018 Ford F-150 is just as impressive. Designed to be comfortable, and to give you easy access to all of your features, you will always be in control when you are behind the wheel of this truck. Furthermore, your passengers will be able to ride in comfort thanks to the refined seat design.
The 2018 Ford F-150 has a lot beneath the surface to boast about, though. In terms of towing, the 2018 Ford F-150 has a selection of engines available for you to choose from. For instance, with the available 3.5L EcoBoost V6 engine you can get up to 375 horsepower, and 470 pounds-feet of torque.
In terms of towing, the 2018 Ford F-150 offers you best-in-class towing (up to 13,200 pounds) and best-in-class payload (3,270 pounds).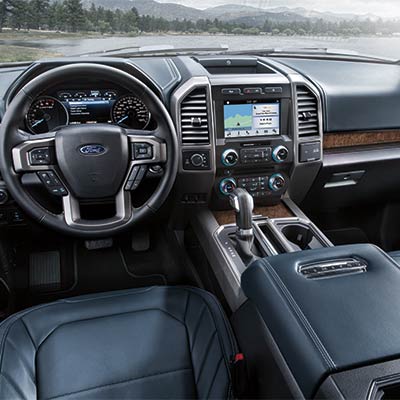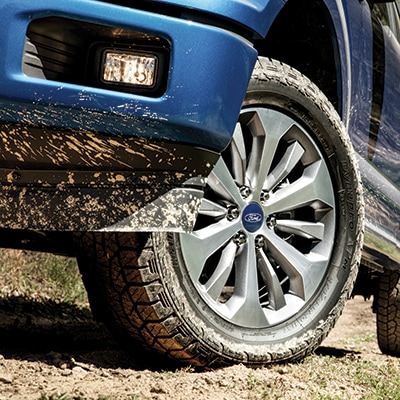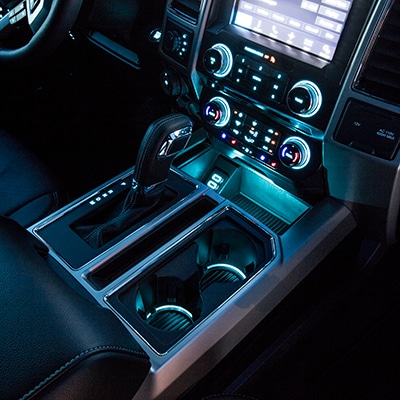 This Ford F-150 Is Smarter Than Ever Before
It's not all just muscle with the 2018 Ford F-150, though -- it has plenty of brains as well. Whether you are more interested in its entertainment features, or in its safety technology this Ford F-150 has more than enough features to help you on the road.
For instance, its 8" LCD productivity screen, class-exclusive remote tailgate release, and its multimedia system all help make your driving experience more comfortable, more efficient, and more enjoyable. Additionally, with features like a Blind Spot Information System with cross-traffic alert and trailer coverage, pre-collision assist and lane-keeping, and adaptive cruise control with stop-and-go, you will be safe behind the wheel of the 2018 Ford F-150. These features will help enhance your security, so that you get to your destination without issue.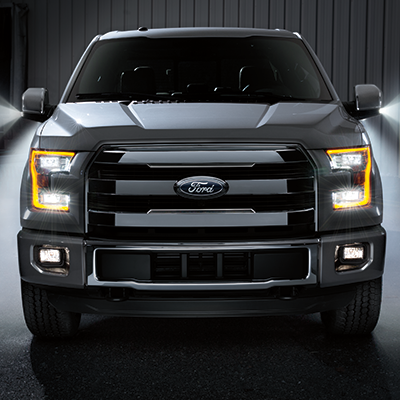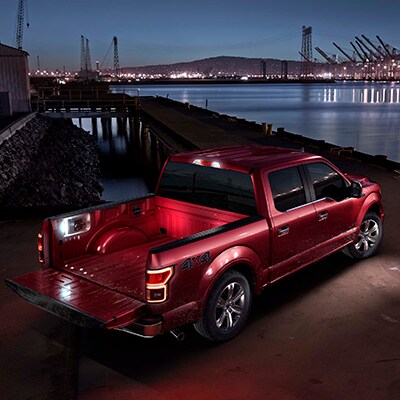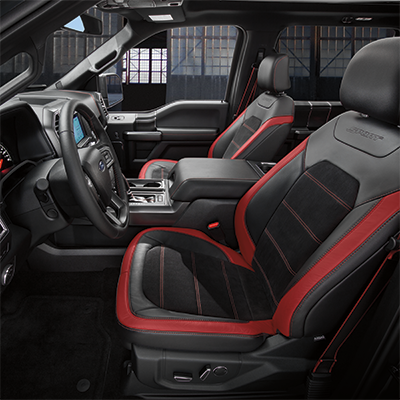 Want to See the 2018 Ford F-150 In Person?
This truck has a reputation, and for good reason; now, with the 2018 Ford F-150, your driving experience will be better than ever -- more reliable, more durable, more efficient, and more advanced.
If you would like to learn more about this truck, its abilities on the road, or its features, we invite you to visit us at Max Ford of Harrisonville, MO. Our team is here to make sure you find a vehicle that is just right for your needs, and provides you with a safe, and enjoyable, experience on the road.
Hours
Monday

8:30 AM - 8:00 PM

Tuesday

8:30 AM - 8:00 PM

Wednesday

8:30 AM - 8:00 PM

Thursday

8:30 AM - 8:00 PM

Friday

8:30 AM - 6:00 PM

Saturday

8:30 AM - 6:00 PM

Sunday

Closed